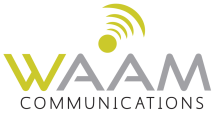 Technology Broker
Meeting Your Technology Needs With the Best Solutions
Every business needs phone and internet services to remain competitive and successful. WAAM focuses on providing your business with independent quotes from the appropriate Providers in your service areas.
WAAM Communications, LLC was founded in 2002 to support companies with their legacy data systems. We provided mostly refurbished routers and modems and some troubleshooting services. Over time we added some communications services such as data system networking. We also began offering voice and data connectivity services.
Today WAAM offers a full array of technology products and services custom tailored to your company's specific needs. Through our industry partnerships, we offer competitive pricing from over 200 Providers in our portfolio for everything from regular phone service to cloud services.
Contact Info:
WAAM Communications, LLC
PO Box 417
Laveen, AZ 85339
Phone: 800-470-2960